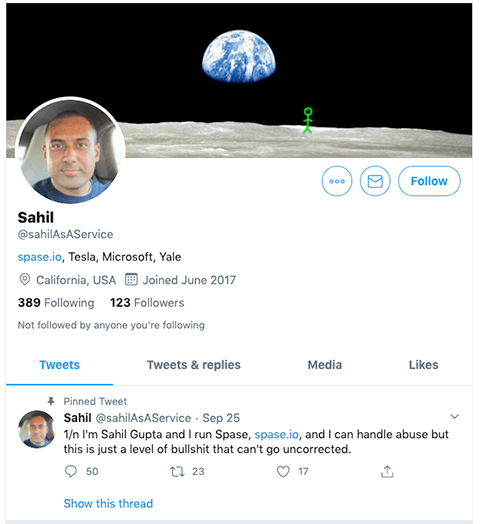 Sahil Gupta of Spase.io had already earned himself a place in the Hall Of Shame for his naked attempt to hijack the domain Spase.com. However, it was his response to the RDNH ruling, and the subsequent domain industry media coverage of the case, that earned his special place on the list of RDNH Poster Boys.
The ruling and subsequent media coverage provoked within Mr. Gupta an apparent need to lambast and attempt to discredit the domain industry, the World Intellectual Property Organization, Mrs Jello, LLC, and the company's attorneys. Mrs Jello, LLC is the company against which Mr. Gupta had filed his UDRP complaint.
In an apparent reaction to the news coverage by the domain industry, Mr. Gupta pinned a 25-post thread to the top of his Twitter feed, compelling anyone arriving at his profile to see the first, bellicose post of his protracted diatribe, wherein he claims he is the victim of "abuse" and a "level of bullshit that can't go uncorrected".
Reading through the thread, it becomes obvious Mr. Gupta has a genuine sense of entitlement where it concerns the ownership of the domain Spase.com, although he scarcely attempts to explain why, after being in business only 17 months, he believed he should take the property rights of someone who has owned the domain since Mr. Gupta was in elementary school.
Spase, Inc., operating at Spase.io, began operations, according to the UDRP complaint, in February 2019. The complaint, itself, was filed in July 2020. Mrs Jello, LLC, acquired Spase.com in February 2005. Mr. Gupta did not begin high school until 2009, according to his own LinkedIn profile.
Such a timeline does not proffer a clue to Mr. Gupta that, perhaps, he did not have rights to something by the same name. Instead, he posted links to media coverage of Mrs Jello, LLC's acquisition of penis.org, in an apparent attempt to discredit the company's business model of acquiring and monetizing generic domain names.
"For the last 10 months I've been dealing with this entity Mrs Jello LLC, who owns spase.com. A simple Google search for Mrs Jello LLC will make who they are and their business model very clear," Mr. Gupta wrote, in the fourth of more than two-dozen tweets in the thread.
Mr. Gupta then goes on to explain that his company is called Spase and builds 3D models and augmented reality models, although it is very unclear how AR could be made into a model. Perhaps he meant to write mockup. "We're live at spase.io and I believe we have the legitimate rights to spase.com."
Mr. Gupta has no registered trademarks for Spase, although a three-member panel at the World Intellectual Property Organization gave him the benefit of the doubt for having established a modicum of common-law trademark status for Spase, although Mr. Gupta had been in business just under a year and a half.
But even granting this benefit, in what the United States District Court rules might regard as "the light most favorable to the plaintiff", Mr. Gupta once again acted the victim, going so far as to accuse Michal Lichtman, the domain admin for Mrs Jello, LLC, of committing perjury, and accusing the WIPO panel of being complicit with those who infringe on trademarks.
"I'm in no position to criticize the UDRP arbiters," he begins in one of the tweets, "but their decision is cementing the exact behavior it was designed to prevent."
He also critiqued the very process he has been found guilty of abusing, because the arbitration panel refused to accept whatever filings he wished to provide them, whenever he wished to provide them.
"Weeks go by," Mr. Gupta wrote of the arbitration timeline. "Domain arbiters still end up throwing out my reply, because they don't accept secondary replies. And without my counter, it's my original few sentences against 7 pages."
It seems Mr. Gupta does not care about the procedural rules of arbitration any more than he does genuine trademark law. What is striking in his thread, however, is how Mr. Gupta does little to explain why he did not first attempt to acquire a genuine trademark registration for his company name, in the category of industry in which he operates. He also fails to explain why he did nothing to research the UDRP process before haphazardly filing a UDRP complaint in order to hijack a domain, which is how the WIPO panel finally put it.
"[T]he record in this case evinces that the Complaint was brought in bad faith within the meaning of the applicable provisions of the Policy and Rules," the panelists wrote in their decision. "The Complainant, after unsuccessfully attempting purchase the disputed domain name from the Respondent, then filed a groundless Complaint."

Despite the clarity of the panelists in their ruling, Mr. Gupta has flatly refused to accept that he attempted to steal someone's property by abusing an arbitration proceeding. An international panel has ruled, but according to Mr. Gupta, who apparently insists on a last word in this increasingly sordid affair, fired off another salvo of innuendo, whilst continuing to play the victim.
"I could have kept my mouth shut, but this cannot happen again," Mr. Gupta wrote, in the second to last of his 25-tweet rant. "Mrs Jello and Mr. [Stevan] Lieberman cannot get away with this."
It does seem strange the person who is guilty of attempting to steal the digital assets of another thinks the property owners "got away" with something.